Original article: https://swellnavigator.com/blog/tim-driman-surf-photography/
Tim is a South African paddle surfing pioneer, turned professional photographer. We've been enjoying and sharing a lot of his work on our Instagram channel. And we would like to share some more here.
Surfer turned photographer.
I guess my passion for photography has been a natural transition with age. I enjoy being behind the lens now over performing in front of the lens. My personal history in the many forms of wave riding have provided me with an intimate understanding of the ocean, it's moods, the swell movement and more specifically, how to "read" the waves. This gives me a natural feel that I can use behind the camera.
But it wasn't until the watchful and guiding tuition of legendary South African surf photographer, journalist and media guru – Pat Flannagan, that I have learned to capture the story behind the image. His original words of wisdom are burned into my psyche – "Walk around your subject and capture every angle you can to tell the story". I use his philosophy to this day.
I am based in Ballito (The home of the Billabong Ballito Pro), but these days, my wife and I travel all over sub-Saharan Africa with our SONY mirrorless equipment, looking for new adventures and documenting stuff that others have yet to see.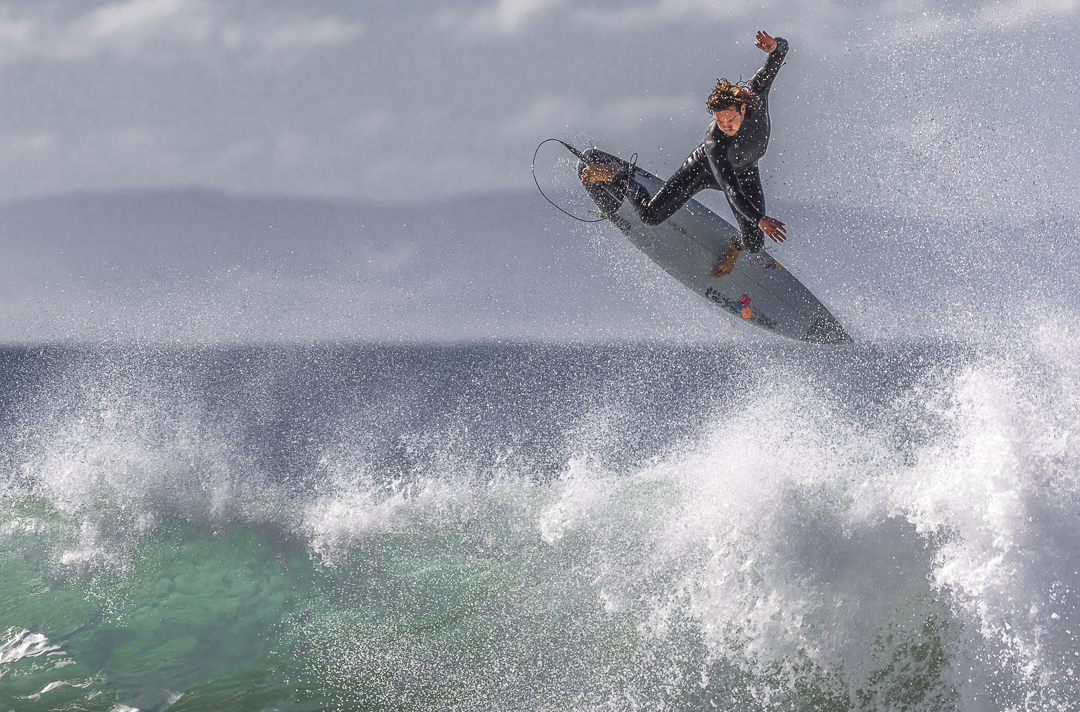 How did you discover surfing?
My history of surfing started way back when I was a toddler, and my uncle took me to the Durban beach. He had a lifesaver friend who used to ride old "Woodies" – Hollow Hawaiian boards made out of plywood.
Lifesavers also rode a 10' long, stand-up skis made from plywood or a wooden frame covered with canvas and painted them to be waterproof. I would sit between his legs while he paddled – that was when I first discovered the energy rush of riding a wave.
My home beach was The Bay of Plenty which was one of Durban's many great surfing beaches. Situated on the northern side of the main bathing beaches, only the "real men" would dare to ride that break, as it was known for its big waves.
Growing paddle surfing into a worldwide competition.
In my younger years I was paddle surfing all around the South African coastlines. While the sport started to grow in popularity and people began to travel, I was able to meet many other like-minded people from all over the world. We mainly relied on snail-mail postal services to stay in contact at the time, but we made it work for us.
One of the people I kept in touch with over the years was Danny Broadhurst, an Englishman who had moved to the USA for his paddle surfing passion. He did a great job growing the sport there and we ended up organising the very first paddle-surfing Championships in the 1980s. One of our first events was with the local Montauk Chamber of Commerce, who officially sponsoring the event as part of the "I Love New York" campaign.
During the first days at Montauk, we surfed an awesome break called Shinnecock Inlet, which was perfect as a warm-up. When we moved to a beach on the northern end of Long Island later, the competition was confronted by a hurricane, with surf breaking parallel to the beach. We had to run up the beach to paddle out, catch a wave which ran from left to right, past the judges, and then paddle in and run back up the beach for the next wave.